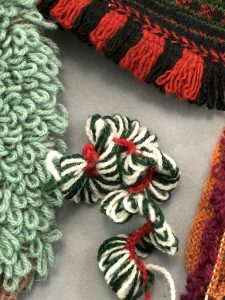 Fringe is used on the cuffs of Latvian Mittens, Finnish Wristers, and Estonian Mittens too (on the inside)!  Working in the round on DPNs, a sampler will be knitted in class to learn how to create four of these interesting techniques. Students can then apply this knowledge to mittens, gloves or wristers outside of class. The following techniques will be covered:  making a tiny fringe (Estonian) and a longer variant that is 2-color (Latvian), an applied fringe (Finnish) and an interior fringe that makes a mitten warmer (Estonian).
Length: 3 hours
Level: Intermediate (Must be proficient with double-pointed needles, Magic Loop, or working with two circular needles.)
Materials
2 oz each of three colors of sport or DK-weight yarn. Wool is best to hold the fringe. Please don't choose synthetics or superwash wool–they are too slippery.
One set of size 3.5 mm/US 4 dpns. (If you prefer working with Magic Loop or two circulars, please bring the appropriate needles.) It is also helpful to bring a circular needle of any size, at least 60 cm/20-24″ to use in making the fringe.
Crochet hook, size G or smaller
Stitch markers, tapestry needle, waste yarn for saving sample. Optional:  A 6″ rigid ruler or other smooth somewhat rigid piece, such as strapping tape (1/2 to 1″ wide).
Homework:  None.