My patterns are not merely instructions on how to make a particular piece of knitting.  They are based on motifs, construction techniques, and/or actual garments from the 19th century in Northern Europe.  The 19th century was a time of great experimentation and many iconic garments were created that we still recognize today. Indeed, the sweater as we know it in our time, evolved during that time, from mostly undergarments.
My design inspirations come from these historic garments. When I visit the storage area of museums, I am overcome by the wonderful motifs of the lovely garments that I see, and I am inspired to create some wonderful knitted pieces based on that artifact. Sometimes I can't design fast enough!
I consider my patterns another opportunity for educating knitters.  I rely on photographs, charts, theory boxes, short articles on knitting history, and technique boxes within the patterns to convey the knowledge necessary to complete the project. And I am using more video, including links in my patterns to demonstrate the required techniques.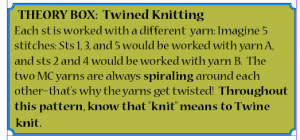 Computers have made the design process so much easier.  I use two different charting programs when I design: Stitch Painter (for charting out the entire garment) and Stitch Mastery (for the finalized motif charts I use in my patterns and handouts). I am still working on my skills when it comes to Excel spreadsheets for grading my patterns, but it really is the way to go! My patterns and handouts are laid out in Adobe InDesign, using Photoshop extensively.  Each year I find I understand these powerful programs a little better.
Sadly I am unable to do much knitting anymore, due to the condition of my hands, but I know of some wonderful knitters who'll help me out if need be. So, I do enlist knitters to test my patterns, and I also have my patterns edited by a technical editor (my dear friend Carolyn Vance) to ensure accuracy.
I began designing knitwear in the 1970s, out of a desire to alter existing instructions to suit my taste. Beginning in the 1980s, some of my patterns and articles were published in magazines: CastOn (the journal of The Knitting Guild Association, TKGA), Knitters magazine (XRX, Inc), Interweave Knits (Interweave Press), Knitting Traditions (Interweave Press), Piecework (Interweave Press), The Knitter (A UK magazine), and Vogue Knitting.
Soon, I found that the pressure of designing for magazines was overwhelming while raising my children.  Often there might be only several weeks between a design being accepted and the deadline for the completed garment and instructions. So an entire month would be spent knitting and writing, only to receive $500 at best, for the job.  I decided to continue designing, but on my own terms, and for my own line.
To learn more about current pattern offerings, please subscribe to my newsletter with the link at the bottom of this page.
Testimonials:
"I've seen [your Yummy Mitten] pattern for years. I always thought, looking at the photo on this pattern, these look so simple and straightforward, why do I need a pattern, etc. But I bought it because obviously you thought of it, not me. I would NEVER have done them as well as they turned out following your pattern. The things you thought of that I wouldn't have…! I'd have had to rip numerous times. And so many writers who say "clearly written pattern" mean that the pattern is so over-written, it's more confusing than if they said nothing at all. Yours is exactly the opposite: just what I needed to know, nothing more, clear as a bell. Way to go!!!!" –Kitty D.
"Your [patterns have] given much pleasure over the last few months, and as usual, you've enriched my knitting world.    I have learned so, so much from the pattern. I'm not one to stick to instructions, but I decided… I just needed to follow you step-by-step – I did and it was a great joy to finally bind off and see the results.   You are amazing!!! "– Betty J