2022
Scroll down to see three different trips scheduled for 2022.
Cruise New Zealand and Australia!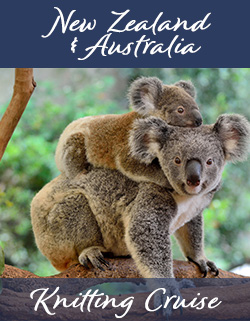 March 31- April 14, a 14-day cruise!
Though 2020 saw a dearth of cruises, plans are being made for 2022!  Join me on a cruise of New Zealand and Australia in March, 2022 for a 14-day cruise from Auckland, NZ to Sydney, Australia on the Oosterdam ship of Holland America. For more details of each port
visit the Craft Cruises website
.

The Itinerary
New Zealand
March 31    Embark in Auckland
April 1     Auckland
April 2    Tauranga (Rotorua)
April 3     Gisborne
April 4    Wellington
April 5    Akaroa (Christchurch)
April 6    Fort Chalmers (Dunedin)
Australia
April 7     Scenic Cruising, Fiordland National Park
April 8    At Sea (Tasman Sea)
April 9     At Sea
April 10   Hobart, Tasmania
April 11    At Sea
April 12   Melbourne, Victoria
April 13   At Sea (Coral Sea)
April 14   Sydney, NSW
Join me on a knitting cruise adventure Downunder! Cruise from Auckland to Sydney visiting some of the most popular ports including Tauranga (Rotorua), Gisborne, Wellington, Akaroa (Christchurch), Dunedin, Fiordland National Park, Hobart, Melbourne and Sydney. This cruise offers the perfect balance between time in port and relaxing days at sea.
New Zealand is ideally seen from a cruise ship since you only need to pack and unpack once. Arrive early to explore Auckland and its surrounding areas including the Bay of Islands and Waiheke Island. Sample wines at local vineyards, jump off the Sky Tower or participate head out to see the wild black sand beaches in Piha where the movie, The Piano was filmed.
Visit Ashford Wheels and Looms on the South Island where you will shop for the best yarns produced in New Zealand. Visit Tasmania, one of the most remote destinations on earth, and Melbourne. From Melbourne the group will enjoy a trip out to the beloved Tarndie Homestead where everyone will learn about Polwarth sheep and what it is like to farm sheep in the rugged Outback.
This amazing cruise ends in Sydney where knitters can extend their stay to see the iconic Sydney Opera House, stroll through the Royal Botanic Gardens, and visit Jane Slicer-Smith and her Signature Handknits Studio for a trunk show. Shop in Skein Sisters, Sydney's best yarn shop, for a last souvenir skein.
For those wanting to fully experience Australia, let CraftCruises.com help you plan an extension to the Great Barrier Reef, Australia's famous Red Center or some of Sydney's top attractions such as the Opera House, Harbour Bridge, Blue Mountains, or the Hunter Valley wine region.
Land Tour of Wales and Cornwall
April 19-May 1, 2022

Travel with me to the Wonderwool Festival held every year in Wales! We will visit a castle, gardens, take a steam train ride, visit the National Wool Museum and a shepherd's farm, lovely Cornwall villages, an abbey, and, as we make our way back to London to fly home, we will see the amazing Stonehenge! For more information or to book, email the tour company: infoATopulentquiltjourneysDOTcom.
Polar Ice Cap Cruise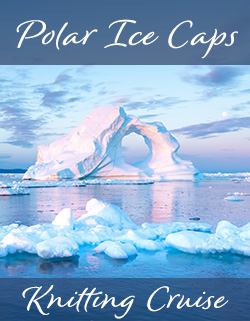 June 12 – July 3, 2022, a 22-day cruise!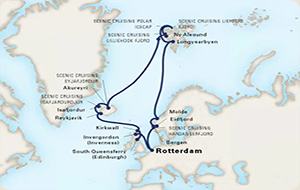 Sail on the Holland America ship the Volendam from the Netherlands to Norway, Iceland, and Scotland!  For more details of each port visit the Craft Cruises website.
The Itinerary
The Netherlands
June 12    Embark in Rotterdam
June 13     At Sea
Norway
June 14    Eidfjord
June 15    Bergen
June 16    Molde
June 17   At Sea
June 18    At Sea
June 19     Longyearbyen
June 20    At Sea-scenic cruise of the Polar Ice Cap
June 21     Ny-Alesund
Iceland
June 22   At Sea
June 23   At Sea
June 24   Eyjafjordur
June 25   Isafjordur
June 26   Reykjavík
June 27   Reykjavík
June 28   At Sea
Scotland
June 29    Kirkwall
June 30    Edinburgh
July 1        Invergordon
July 2        At Sea
July 3        Rotterdam, the Netherlands
Embark with Craft Cruises on a journey to the Arctic Circle during the summer solstice when the days are long. The cruise begins and ends in Rotterdam. This cruise sets sail along the coast and fjords of Norway, stopping in Eidfjord, Bergen, and Molde, before traveling into the Arctic Ocean some 500 miles north of the Norwegian mainland to Spitsbergen and the Svalbard Archipelago, where polar bears reportedly outnumber the residents. The Volendam then circles Iceland, docking in the ports of Akureyri and Ísafjörður before overnighting in the vibrant capital Reykjavik. Heading back toward Rotterdam, the ship visits Kirkwall, Edinburgh, and Invergordon near Inverness.
From mid-May until the end of July, the Midnight Sun shines over the polar cap and Svalbard, a beautiful archipelago hundreds of miles north of Norway in the Arctic Ocean. Here visitors are captivated by the rugged beauty and wildlife of one of the most remote places on earth. This region is home to glaciers, jagged peaks, wildflowers, and reindeer. It is common to see beluga, humpback, orca, and narwhal, and many arctic seabirds.
Onboard, Beth Brown-Reinsel will offer a range of her most popular classes that highlight knitting techniques and designs with a Nordic influence, including everything from Icelandic Lopapeysa Pullovers to Swedish-Twined Knitted Mittens. Beth is the perfect instructor for this polar knitting cruise with more than 30 years of teaching experience and a passion for historical knitting. Traveling at the height of summer is optimal for visiting the Arctic Circle. From ice-carved fjords to glistening glaciers and from geysers and hot springs to waterfalls, beauty abounds. You'll almost not want to sleep and miss any sights. Knitters will be in their element as this itinerary provides unique opportunities to learn about the rich history and traditions of knitting, from Norwegian knitwear to Icelandic sweaters. Enjoy local seafood specialties, Norwegian pastries, or an ice-cold local beer. There's no better way to see the alluring North than this 21-day Polar Ice cruise, so please join us!