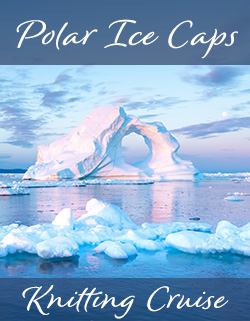 June 11 – July 2, 2023, a 22-day cruise!
Sail on the Holland America ship the Rotterdam from the Netherlands to Norway, Iceland, and Scotland!  For more details of each port visit the Craft Cruises website.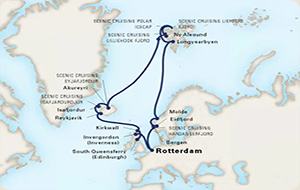 My classes offered while at sea:  The Icelandic Lopapeysa Pullover, Saami-Inspired Mittens, Latvian Wristers,  Introduction to Twined Knitting, Swedish Color-Twined Mittens
The Itinerary
This has been updated from the original itinerary due to ecological concerns over the Polar Ice Cap.
The Netherlands
June 11    Embark in Rotterdam
The UK
June 12    Dover, England
June 13    At Sea
Norway
June 14    Bergen
June 15     Molde
June 16   At Sea
June 17   At Sea
June 18    Longyearbyen
June 19     At Sea
June 20    Ny-Alesund
June 21     At Sea
Iceland
June 22   At Sea
June 23   Akureyri and Eyjafjordur
June 24   Isafjordur
June 25   Reykjavík
June 27   Reykjavík
June 27   At Sea
Scotland
June 28    Kirkwall
June 29    Edinburgh
June 30    Invergordon
July 1        At Sea
July 2       Rotterdam, the Netherlands
Embark with Craft Cruises on a journey to the Arctic Circle during the summer solstice when the days are long. The cruise begins and ends in Rotterdam. This cruise sets sail along the coast and fjords of Norway, stopping in Eidfjord, Bergen, and Molde, before traveling into the Arctic Ocean some 500 miles north of the Norwegian mainland to Spitsbergen and the Svalbard Archipelago, where polar bears reportedly outnumber the residents. The Volendam then circles Iceland, docking in the ports of Akureyri and Ísafjörður before overnighting in the vibrant capital Reykjavik. Heading back toward Rotterdam, the ship visits Kirkwall, Edinburgh, and Invergordon near Inverness.
From mid-May until the end of July, the Midnight Sun shines over the polar cap and Svalbard, a beautiful archipelago hundreds of miles north of Norway in the Arctic Ocean. Here visitors are captivated by the rugged beauty and wildlife of one of the most remote places on earth. This region is home to glaciers, jagged peaks, wildflowers, and reindeer. It is common to see beluga, humpback, orca, and narwhal, and many arctic seabirds.
Onboard, Beth Brown-Reinsel will offer a range of her most popular classes that highlight knitting techniques and designs with a Nordic influence, including everything from Icelandic Lopapeysa Pullovers to Swedish-Twined Knitted Mittens. Beth is the perfect instructor for this polar knitting cruise with more than 30 years of teaching experience and a passion for historical knitting. Traveling at the height of summer is optimal for visiting the Arctic Circle. From ice-carved fjords to glistening glaciers and from geysers and hot springs to waterfalls, beauty abounds. You'll almost not want to sleep and miss any sights. Knitters will be in their element as this itinerary provides unique opportunities to learn about the rich history and traditions of knitting, from Norwegian knitwear to Icelandic sweaters. Enjoy local seafood specialties, Norwegian pastries, or an ice-cold local beer. There's no better way to see the alluring North than this 21-day Polar Ice cruise, so please join us!