7-Day Pacific Coast Knitting Cruise
with Beth Brown-Reinsel
Apr 27-May 4, 2020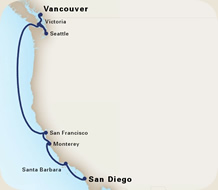 Set sail with Beth Brown-Reinsel up the Pacific Coast on a spring cruise stopping at many popular ports along the way. Some of the main highlights on this cruise include Santa Barbara which is known as the American Riviera with its perfect year-round weather and outdoor activities; Monterey with its iconic reputation for offering something for everyone including the most beautiful scenery in the entire country along Highway 1; San Francisco with its amazing sightseeing, museums, shopping, and dining experiences; Seattle for Pike Place Market, Churchmouse Yarns & Teas, and Chihuly Gardens; Victoria for stunning Butchart Gardens and Beehive Wool known to be the largest yarn shop in the entire Pacific Northwest; and Vancouver known for its international flair, Stanley Park and the home of SweetGeorgia Yarns.
This cruise offers a good balance of interesting ports and scenic time cruising. Starting in San Diego, those who arrive early have a chance to learn about Baah! Yarns and other indie-dyers from Southern California as well as visit the historic Old Town and the world-famous San Diego Zoo. Onboard Beth Brown-Reinsel will be offering some of her most popular knitting classes including Traditional Beginnings – Cast Ons from Long Ago, Introduction to Twined Knitting, Latvian Wristers, and to help bring the culture of the Coast Salish people to life from British Columbia, a class on how to knit a Cowichan Inspired Pullover.
For the ultimate cruise experience, you can combine this 7-day cruise Pacific Coast knitting cruise with our 14-day Great Alaskan Explorer knitting cruise with Sally Melville visiting such remote places as the Inian Islands, Valdez, Homer, and Anchorage allowing a visit from the ship to the Musk Ox Farm in Palmer.
Check out the Cruise Highlights, the Itinerary, and Classes Beth will teach, below.
7-Day Pacific Coast Knitting Cruise Highlights
Arrive in San Diego early to meet the creative genius behind Baah! Hand Painted Yarn
Enjoy a traditional Mexican meal in historic Old Town, known for its colorful markets, fresh tortillas, and icy-cold margaritas
Take classes with knitting expert Beth Brown-Reinsel, who specializes in traditional knitting techniques
Visit the coastal community of Santa Barbara, the celebrity hideaway of the rich and famous nestled between the Pacific Ocean and the Santa Ynez Mountains known for its near-perfect climate, sandy beaches, and rocky coves
Shop for souvenir yarn at Cardigan's Yarn shop in Santa Barbara
Choose from a plethora of options in Monterey such as touring vineyards, enjoying a memorable meal at one of many celebrated restaurants, visiting a world-class aquarium or experiencing the top road trip in the United States as you wind along the breathtaking Big Sur coastline on Highway 1 past the unparalleled scenery of the California Redwoods and craggy Pacific coastlines
Find your knitspiration at fabulous Monarch Knitting, in Pacific Grove, near the port of Monterey
See the Golden Gate Bridge, visit Alcatraz or just shop to your heart's content at two of the best yarn shops in the Bay Area, A Verb for Keeping Warm in Oakland and Imagiknit in the Castro District
Shop at the largest yarn store in the Pacific Northwest, Beehive Wool Shop in Victoria, British Columbia
Visit Butchart Gardens, Canada's most beautiful National Historic Site, known for its stunning floral displays
In Seattle, take the ferry to shop at Churchmouse Yarns & Teas, go to So Much Yarn in Pike Place Market or ride the Monorail to the Seattle Center where you can see Chihuly glass on display at Chihuly Garden
In Vancouver, shop at Urban Yarns, Maiwa Supply on Granville Island and see yarn dyed at the dye studio of SweetGeorgia Artisan Hand-Dyed Luxury Yarns
Pacific Coastal ~ Itinerary
San Diego, California
Arrival Date: April 27, 2020
Departure Date: April 27, 2020                                     Departure Time: 05:00 PM
The sun glistens off the beautiful Pacific Ocean 300 days a year in San Diego. You can see Spanish influence against the urban city, check out the beach, visit with the animals at the famous San Diego Zoo or Sea World.
Santa Barbara, California
Arrival Date: April 28, 2020  Arrival Time: 08:00 AM
Departure Date: April 28, 2020 Departure Time: 05:00 PM
Santa Barbara is a charming seaside town and has much to offer. It is nestled along scenic Highway 101 and, although it is only about 100 miles from Los Angeles, it is often included regionally as being part of Northern California because of its laid-back attitude, pretty beaches and stunning scenery.
Monterey, California
Arrival Date: April 29, 2020 Arrival Time: 08:00 AM
Departure Date: April 29, 2020 Departure Time: 05:00 PM
Monterey, California offers visitors multiple delights–—stunning coastal scenery, a world-renowned aquarium, a restored Spanish mission in nearby Carmel, and a walkable Fisherman's Wharf and Cannery Row with art galleries and excellent restaurants. From whale watching to wine tastings to learning about Nobel-winning author John Steinbeck, Monterey has something to suit everyone's interests.
San Francisco, California
Arrival Date: April 30, 2020 Arrival Time: 08:00 AM
Departure Date: April 30, 2020 Departure Time: 05:00 PM
Known for its cool summers, rolling fog, and scenic location, San Francisco is a vibrant, diverse, and compact California city that will charm visitors from the span of the Golden Gate Bridge to the mansions of Nob Hill. There's much to see and savor here and so little time.
At Sea
Arrival Date: May 1, 2020
Departure Date: May 1, 2020
While at sea you can enjoy the vast amenities offered aboard the cruise ship. Craft Cruises holds various classes during times at sea.
Victoria, Canada
Arrival Date: May 2, 2020 Arrival Time: 12:00 PM
Departure Date: May 2, 2020 Departure Time: 11:00 PM
Beautiful, diverse and Western Canada's oldest city, Victoria, Canada is full of history, culture and breathtaking scenery.
Seattle, Washington
Arrival Date: May 3, 2020 Arrival Time: 08:00 AM
Departure Date: May 3, 2020 Departure Time: 05:00 PM
Seattle is located on Puget Sound and is one of the most stunning cities in the country. Seattle's nickname is the Emerald City because not only is it a jewel of a city but also due to the large number of evergreens throughout the region.
When most people think of Seattle, they think rain but it doesn't really rain as much as it does in other parts of the country. Seattle actually boasts one of the most livable climates in the world. Few residents own air conditioners or snow shovels and the growing season is typically around 11 months.
We recommend extending before or after your cruise to enjoy everything this city has to offer.
Vancouver, Canada
Arrival Date: May 4, 2020 Arrival Time: 07:00 AM
Departure Date: May 4, 2020
Vancouver is one of Canada's most magnificent cities with a vibrant waterfront and a sparkling skyline that is surrounded by majestic mountains. The scenery, friendliness of the locals and all the great dining and entertainment venues make this one of the most livable cities in the world. Your best advice is to spend as much time as you can here enjoying the sights and activities both within the city and in the surrounding area.
Pacific Coastal Cruise ~ Classes offered
Traditional Beginnings – Cast-Ons from Long Ago
Description ~ Traditional Beginnings – Cast-Ons from Long Ago
 Learn eight of the most beautiful, and practical, cast-ons in our knitting history and the best ways to use them. From the UK, we will cover the Channel Island Cast-on, the Knitted Cast-on, and the Multi-Strand Cast-on. Included are two basic go-to cast-ons, the Long Tail and Old Norwegian cast-ons, that are the basis for two decorative cast-ons from the Twined Knitting tradition in Sweden. Last, the wonderful Braided Cast-on from Finland will be taught in 3 colors! In addition, a few bind-offs will be covered as well for you to practice on as you bind off your swatches.
Introduction Twined Knitting
Description ~ Introduction Twined Knitting
Curious about the 400-year-old Swedish technique of Twined Knitting? This unusual method of knitting produces a very warm, firmly elastic fabric and motifs not possible in any other type of knitting. The Scandinavians believe if you keep your pulse warm, your whole body is warm, and in this three-hour class, you'll knit one of a pair of wrist warmers!
The Cowichan-Inspired Pullover
Description ~ The Cowichan-Inspired Pullover
On Vancouver Island in British Columbia, the Coast Salish people developed this V-necked, shawl-collared garment after learning of knitting through Europeans who visited their area. The Salish preferred motifs that reflected the natural world (whales, birds, etc.) as well as geometric motifs. The sweaters, still handspun by some people, are knitted on double-pointed needles, with thick singles yarns in 2 or 3 colors. This class will cover stranding and weaving with colors (from the right side), reading a chart, putting stripes in ribbing (without color distortion) an unusual traditional shoulder join, creating a shawl collar shaped with short rows, and knitting sleeves from the top down while shaping the cap.
Latvian Wristers
Description ~ Latvian Wristers
Using wristers as a template, some of the beautiful knitting methods of Latvia will be studied in this class. Knit one of a pair of wristers to learn the following techniques which can be applied to mitten cuffs, sock tops or sleeves: a scalloped cuff, the herringbone braid and many subtle and beautiful variations of the half-braid. A choice of traditional motifs is incorporated in the main part of the wrister, as well as a picot edge at the end. Additional techniques to be discussed include knitting with two yarns in the right hand, two yarns in the left hand, or a yarn in each hand, as well as knitting with three colors and setting up the knitting for color changes in the braids.