Come to Vermont to knit and learn!
Nestled in the foothills of the Green Mountains of southern Vermont, I hold a knitting retreat three times every year.  A variety of traditional workshops, based on my research in many European museums,  is offered to deepen the skill level of intermediate to advanced knitters.  Attended by warm and friendly knitters from all over North America, the extended weekend is full of camaraderie, good food, interesting classes, and a lovely setting. Classes are held in the Dutton Farmhouse, which is situated on a historic apple farm. I love teaching knitters in this beautiful setting.  We laugh a lot, knit a lot, and eat very well. It all adds up to a memorable time for new and returning participants.
What retreat participants say about the Vermont Retreats…
"Thank you so much for a wonderful knitting weekend. It is always a special experience to work with you, and I learn so much. I share your passion for traditional knitting, and so am thrilled to learn about the history, ingenious construction, and remarkable knitting tips that you share with us. Mostly, Beth, I so appreciate your patience, understanding, and compassionate heart. I feel so fortunate to know you, and to have you for a beloved teacher. I look forward to attending your other workshops. I never tire of it. The weekend in beautiful VT, with all its aspects, shines as a jewel in my year." –Ellie C.
SAVE THE DATES!
The dates for 2020 have been chosen, though not the classes yet:
May 14-17, 2020
September 10-13, 2020
November 12-15, 2020
The Classes
Session 1: June 20-23-
 

Maine Mittens- Glorious patterning!

We all had a grand time at this Maine Mitten retreat and so many beautiful mittens were made!  It was a challenge to integrate the different motifs with the cuffs and the thumb gussets, while also considering how to decrease attractively at the mitten tip and thumb.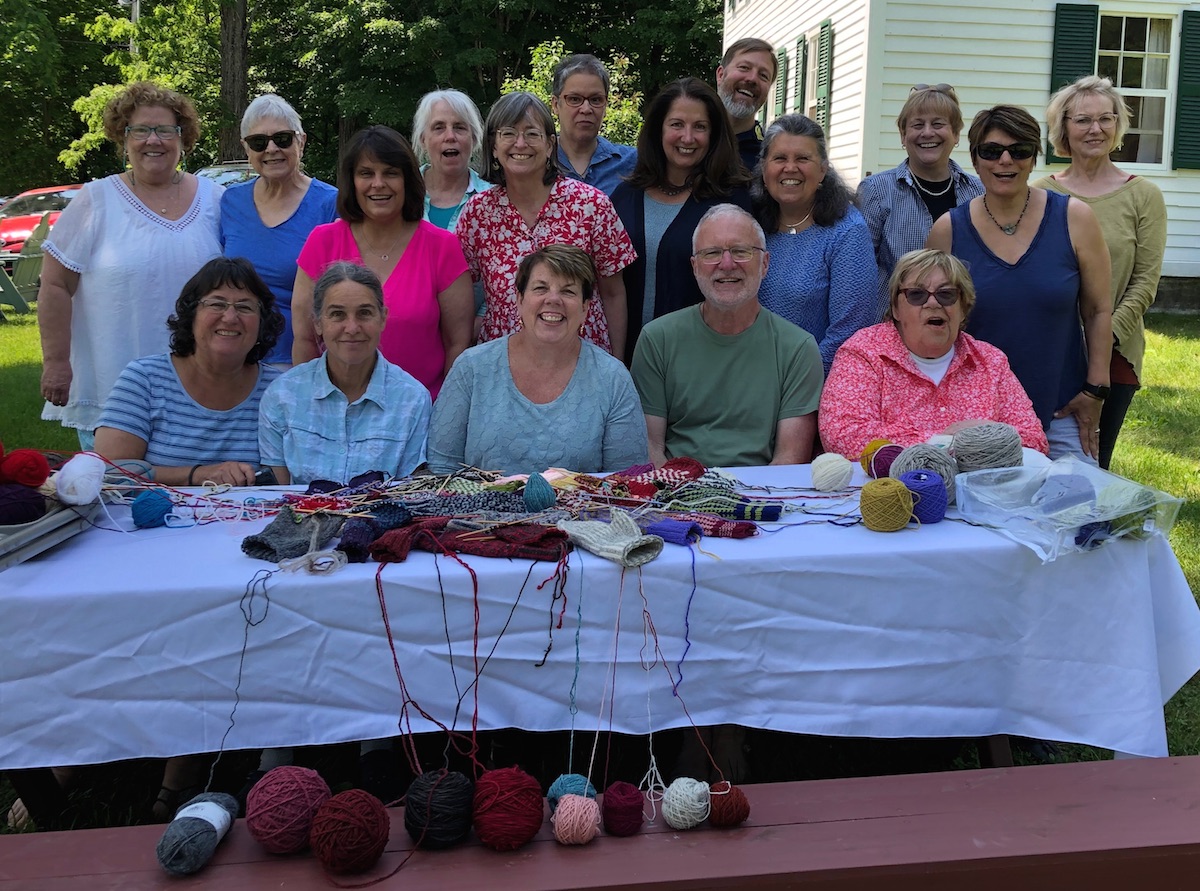 These are some of the beautiful mittens made at this retreat: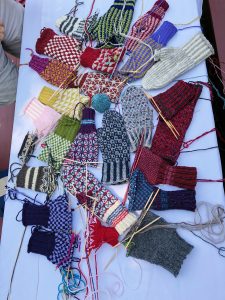 September 5-8- Swedish Twined Knitting:  Texture, Color, and Sock Techniques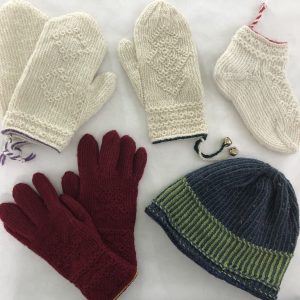 This retreat will be a compilation of many Tvåändsstickning, or twined knitting techniques. This warm fabric is often worked with two yarns of the same color, twined around each other, and creates a warmer, denser fabric than conventional stranded knitting.
Day 1: The class will explore the basics: twined knitting cast-ons, twine knitting and purling, reading and working from a chart, the deep knit stitch, the deep purl stitch, the crook stitch, the "O" stitch, Chain Path, increasing, while developing muscle memory as a textured mitten is knitted.  (It can be made into gloves or fingerless mitts if desired.
Day 2:  The beginnings of a sock will be knitted to reinforce the techniques from the day before as well as to illustrate the clever heel construction used in twined knitting.  
Day 3: Several twined knitting techniques that use two or more colors will be the focus on this day as students work on a hat. There will be opportunity to modify the pattern, adding motifs or other colors if desired.
Note: I will possibly have fingering and sport weight Z-plied yarns available for sale.  Some of the projects may require conventional S-plied worsted weight yarns.
Level: Intermediate.  Must be comfortable with double pointed needles or working with two circulars or Magic Loop.  Ability to knit English style is strongly suggested.
 

October 31- November 3- The Icelandic Lopapeysa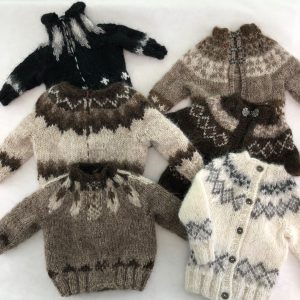 The beloved Icelandic yoked sweater made of Lopi yarn will be the focus of this retreat. The Lopapeysa is a flexible garment: it can be knitted from the top down or the bottom up, as a cardigan or a pullover.  The sampler we will create will be worked from the bottom up, and will include patterning at the cuffs and sweater bottom as well as in the circular yoke.  Options for short row shaping for the neck will be discussed.  Students can choose to create a cardigan (cutting the front open) or a pullover.  The traditional Plotulopi yarn can be purchased for this class to learn how to manage this unusual yarn.
Level: Intermediate (must be proficient with DP needles, Magic Loop, or working with two circulars).  Prior stranded (two-color) knitting experience is preferred.
---
The Details
The Schedule
Thursday Evening: Arrive around 5 PM, wine and hors d'oeuvres at 5:30, dinner around 6:15.
Friday: Breakfast- 8:30, Class- 9:30 -12:30, Lunch and break until 1:30, Class until 4 PM.
Saturday: Breakfast- 8:30, Free time- until 12:30 (Beth will be available if you would prefer to stay at the Farmhouse to knit), Lunch and break until 1:30, Class until 4 PM.
Sunday: Breakfast- 8:30, Class- 9:30 -12:30, lunch and break until 1:30, Class until 4 PM.
The Cost: $560 includes all instruction and comprehensive handouts, Thursday welcome dinner, breakfast and lunch on Friday, Saturday, and Sunday. (Dinners on those days are on your own.  Often the group will go out or bring dinner in.)
Getting There
AmTrak and Greyhound both serve Brattleboro (BRA) with one trip north and south each day.
Car Rental (in Brattleboro):
Enterprise: 802.257.4700
Avis:  802.258-3810
Taxi service:
From the train station to the Dutton Farmhouse, the cost is approximately $20, plus tip.
Adventure Taxi: 802.254.8400
ABS Taxi: 802.254.6446
MP Gouin Taxi: 802. 246.1165
Airports:
The closest are Hartford, CT (BDL),Manchester, NH (MHT), Albany, NY (ALB) and Boston, MA (BOS).
Driving:
Enter "Dutton Farmhouse 255 Dutton Farm Road, Dummerston, VT 05301" into Google Maps for directions.
Staying There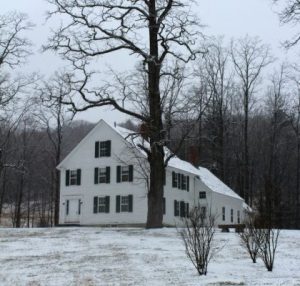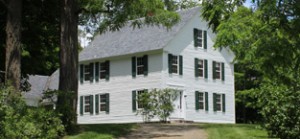 Classes are held in  the Dutton Farmhouse.  In warm weather, we often eat outside and enjoy the view of Mount Monadnock many miles away in New Hampshire!  The farmhouse has four bedrooms with shared baths.    Contact Marilyn for more information on staying there.
The following hotels are within 5-10 minutes and 5-10 miles of the workshop.
The Hampton Inn 802.254.5700 www.hamptoninn.hilton.com/Brattleboro
Holiday Inn Express 802.257.2400 www.brattleboroexpress.com
The Latchis 802-254-6300 www.latchis.com
Motel 6 802.254.6007 www.motel6.com/Brattleboro, VT
Chesterfield Inn, NH 603.256.3222 www.chesterfieldinn.com
Cancellation Policy
A full refund will be issued to cancellations made more than 90 days from the beginning of the retreat.  When canceling less than 90 days from the workshop, no refund will be given, unless your space can be filled.
To Register
To get more information or to register, email Marilyn King who handles registrations.
A $150 deposit will secure your spot in the workshop, with the balance due approximately 90 days prior to the class.  Checks should be made payable to Beth Brown-Reinsel and mailed to:
Marilyn King
24692 E Arkansas Pl
Aurora, CO 80018
If you have any questions, or for more information, contact Marilyn: Mkingco56@gmail.com
We hope to see you at the retreat!