Come to Vermont to knit and learn!
(Registration information at the end of this page.)
Nestled in the foothills of the Green Mountains of southern Vermont, I hold knitting retreats every year.  A variety of traditional workshops, based on my research in many European museums,  is offered to deepen the skill level of intermediate to advanced knitters.  Attended by warm and friendly knitters from all over North America, the extended weekend is full of camaraderie, good food, interesting classes, and a lovely setting. Classes are held in the Dutton Farmhouse, which is situated on a historic apple farm.  I love teaching knitters in this beautiful place.  We laugh a lot, knit a lot, and eat very well. It all adds up to a memorable time for new and returning participants.  Here are photos of past Vermont Retreats!
What retreat participants say about the Vermont Retreats…
"Thank you so much for a wonderful knitting weekend. It is always a special experience to work with you, and I learn so much. I share your passion for traditional knitting, and so am thrilled to learn about the history, ingenious construction, and remarkable knitting tips that you share with us. Mostly, Beth, I so appreciate your patience, understanding, and compassionate heart. I feel so fortunate to know you and to have you for a beloved teacher. I look forward to attending your other workshops. I never tire of it. The weekend in beautiful VT, with all its aspects, shines as a jewel in my year." –Ellie C.
---
CLASSES FOR 2022                                                         
Session 1:  The Norwegian Fana Cardigan, May 19-22, 2022
Course Description: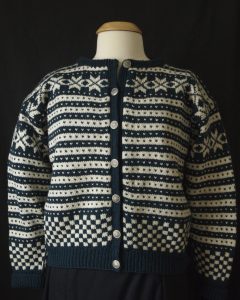 The Norwegian Fana Cardigan developed around the southern part of Norway in the 1800s.  It is a blend of two different sweaters, a white garter stitch cardigan and a striped pullover, both worn by men. Today it is still a popular garment worn by all ages in Norway! The classic details and traditional construction of the Fana will be taught in this workshop through the knitting of a small sweater.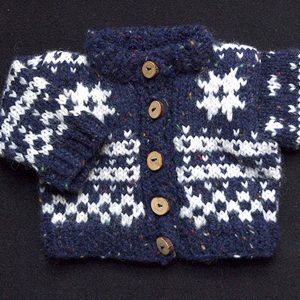 Techniques to be learned include yarn dominance, working with two yarns in the right hand or left hand or both hands, weaving the yarns in each of those styles, reading charts, circularly knitted body and sleeves, square and drop shoulder armholes, cut-and-sew armholes and front (with and without the steek), finishing with knitted self-facings and buttonbands, and 2-color star, band, and checkerboard patterns. Designing one's own Fana cardigan will be discussed.
Level: Intermediate (Experience with double-pointed needles and machine sewing is helpful.)
---
Session 2: Saami-Inspired Mittens, November 3-6, 2022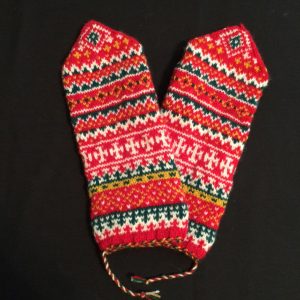 Course Description: 
The Saami peoples live in the northern reaches of Norway, Sweden, Finland, and Russia.  They are known for their bright colors, their nomadic way of life in the past, and for herding the reindeer. There are many motifs used by the different groups of Saami as well as braids, while the construction of the thumbs and tips are consistent across the Saami lands. The mittens to be knitted in class feature stranding, sometimes up to three colors in a round.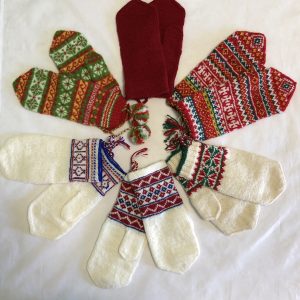 In this class,  a traditional cast-on will be taught to start the mittens, as well as a refresher on reading the charts. Different methods of stranding and weaving will be  covered, as well as yarn dominance.  The afterthought thumb and the classic pointed tip are a part of these mittens.  Students will knit from a prescribed chart or they can create their own mitten pattern layout within a blank template that will be given out, if they prefer.
Level: Intermediate to Advanced (Must be proficient with DP needles, Magic Loop, or working with two circulars).  Prior stranded (two-color) knitting experience is preferred.
---
The Details
The Schedule
Thursday Evening: Arrive around 5 PM, wine and hors d'oeuvres at 5:30, dinner around 6:15.
Friday: Breakfast- 8:30, Class- 9:30 -12:30, Lunch and break until 1:30, Class until 4 PM.
Saturday: Breakfast- 8:30, Free time- until 12:30 (Beth will be available if you would prefer to stay at the Farmhouse to knit), Lunch and break until 1:30, Class until 4 PM.
Sunday: Breakfast- 8:30, Class- 9:30 -12:30, lunch and break until 1:30, Class until 4 PM.
The Cost: $595 includes all instruction and comprehensive handouts, Thursday welcome dinner, breakfast, and lunch on Friday, Saturday, and Sunday. (Dinners on those days are on your own.  Sometimes the group will go out or bring dinner in.)
Getting There
AmTrak and Greyhound both serve Brattleboro (BRA) with one trip north and south each day.
Car Rental (in Brattleboro): Enterprise: 802.257.4700
Taxi service: This is not always available–email Beth to confirm.
Airports: The closest airports are Hartford, CT (BDL), Manchester, NH (MHT), Albany, NY (ALB), and Boston, MA (BOS).
Driving:
Enter "Dutton Farmhouse 255 Dutton Farm Road, Dummerston, VT 05301",  OR  "Naulakha, 481 Kipling Rd, Dummerston, V T  05301" into Google Maps for directions.
Staying There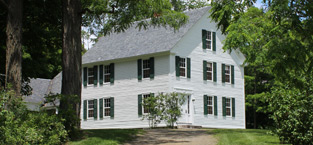 Classes are held in the Dutton Farmhouse.   We often eat outside in warm weather and enjoy the view of Mount Monadnock many miles away in New Hampshire!  The farmhouse has four bedrooms with shared baths. Contact Marilyn for more information on staying there.
The following hotels are within 5-10 minutes and 5-10 miles of the workshop.
Cancellation Policy
A full refund will be issued to cancellations made more than 90 days from the beginning of the retreat.  When canceling less than 90 days from the workshop, no refund will be given, unless your space can be filled.
To Register
To get more information or to register, email Marilyn King who handles registrations.
A $150 deposit will secure your spot in the workshop, with the balance due approximately 90 days prior to the class.  Checks should be made payable to Beth Brown-Reinsel and mailed to:
Marilyn King
24692 E Arkansas Pl
Aurora, CO 80018
If you have any questions, or for more information, contact Marilyn: Mkingco56@gmail.com
We hope to see you at the retreat!