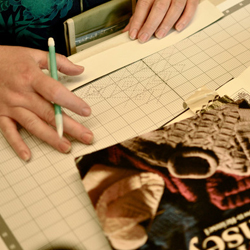 November 8-11, 2018
Designing Ganseys
Students will learn how to construct a Gansey, a sweater form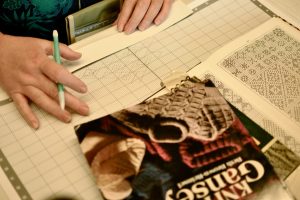 prevalent in the 19th century and early part of the 20th century among the fishermen of the British Isles. On the first class day, a small scale sweater will be knitted using traditional construction techniques including the classic Channel Island Cast-on, split welts, seam stitches, traditional knit/purl patterns, the underarm gusset, the perpendicular shoulder join, picked-up sleeves, and three choices for the collar. Alternative methods to these techniques will also be explored.
 The Design Class continues over the next two days from the 1-day Gansey sampler class, and explores the design process: Design details (sweater attributes), the Silhouette (sweater size), and the Surface Design (sweater patterning).  Each phase will be explained and students will be able to begin planning a full-sized garment.  Books with charts and large format graph paper will be provided.
Level:  Intermediate- student should have previous experience knitting a sweater and must be proficient with double-pointed needles, Magic Loop, or working with two circulars for little sampler.
To get more information or to register, email Marilyn King who handles registrations.