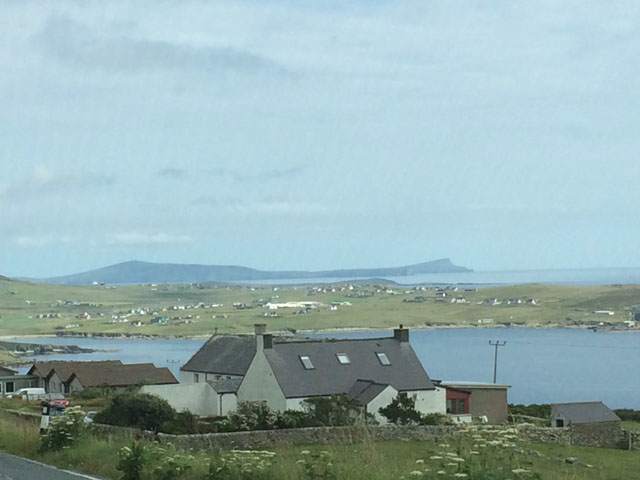 I am leaving tomorrow for Shetland.  I am still packing and tying up loose ends (like my newsletter…) and wondering how I can fit everything into one suitcase, a carry-on, and a small backpack.  My clothes aren't the issue, my teaching stuff is. That actually will exceed the small plane guidelines and one suitcase may be left behind to go on another plane the next day.
Elizabeth Johnston will pick me up at the airport and I will stay with her a few days, before going to my lodgings in town.  I will be teaching the Cowichan-Inspired Pullover (because a Shetland woman figures into its history), Traditional Cast-Ons, and Gansey Techniques.  I will be TAKING book-binding, a class on Estonian Muhu mittens, and one on cuffs and trims: a full week! I am amazed how many people I know who will be at Wool Week.
The landscapes alone are worth the trip, but the knitters and the knitting, the amazing birds, and the lovely old buildings and harbor add so much to the charm of being there. I have only been in Lerwick once.  On my cruise this past July, the ship let us all off for about 8 hours.  I can't imagine how it must feel to live there, and have these streams of about 2,000 people taking over the town.  At least Wool Week isn't THAT large!
Then I am flying back to Edinburgh and taking a bus to Anstruther.  I can't wait to see the Fisheries museum and the ganseys and old photos there.  I'll stay a few days, hopefully hook up with a friend or two, then go back to Edinburgh and home.
This is a dream come true, made possible by my patrons on Patreon.  Going to Shetland for a knitter is like going to Mecca.  It feels like an important pilgrimage of my life and my work.  And adding on a research trip is icing on the cake!