I have so many great photos of the trips I took this year (2023): Italy (Umbria), Japan and South Korea, a cruise to Norway, Iceland, and the Orkney Islands, and back to Italy (Tuscany). Wow, no wonder I am so tired!  But I sure had fun, trying out traditional foods in all these countries (bannock! See below.), seeing museums (the Uffizi in Italy) and lots of religious icons (like Buddha).  I feel I don't have time to show them right now. It is such a big job, organizing them and adjusting the size of each. So I believe I will put them up on Google Photos and give you a link.  That may not happen right away.
But I will show you a couple of images I took while in Orkney (part of Scotland).  Skara Brae was established as a settlement in 3180 BC!  The beds, the cooking area, and seats were all of stone, but probably covered with skins at the time. The different small living spaces were connected underground.  It was so fascinating, and to think this site is older than the pyramids of Egypt!  There was an example of a coracle there at Skara Brae, which is a small round boat.  (I always imagined the "Three Men in a Tub" were in a coracle.) I also saw the Ring of Brodgar which is similar to Stone Henge in that upright stones were erected in a circle, though the stones were not as massive.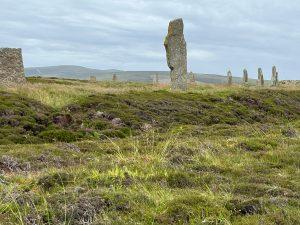 My friend Sarah and her husband also steered us to a great restaurant that featured bannock- a bread or biscuit made of a certain type of flour (Baer). I regret not buying some to take home, but I was afraid it would be taken away from me at customs. I thought it was hearty. Check out the recipe I found on allRecipes  .  You can substitute wheat flour if you don't have Baer.  Bannock bread was made by our ancestors when on the trail. Try throwing in blueberries or raisins for added flavor.