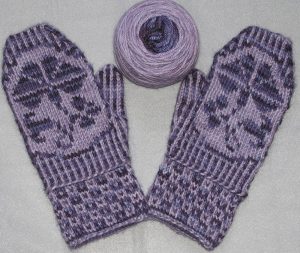 Course Description:
Learn the fascinating Swedish technique of Color Tvåändsstickning, or twined knitting, a technique developed in Sweden in the 1600s, which creates a denser, warmer fabric structure than stranded knitting. Working in the round, students will knit one of a pair of mittens (choose from three sizes) to learn the three different techniques of working with color while twined knitting, twined purling, yarn management, reading a chart, the twined knitted increase, traditional motifs, and the Half-Braid.
Length: 6 hours
Level: Intermediate. Must be comfortable with double-pointed needles, Magic Loop, or working with two circulars. Ability to knit English style is very helpful, but not required.
Supply List :
Yarn: No single ply yarns! Two colors, each 3 oz. of worsted weight yarn for two mitts. Yarn MUST be wound into a center pull ball.  Heathers and fuzzy yarns obscure the patterns. Four ply yarns show the best.
Needles: One set of 7″ long (or shorter) double pointed needles, size US 5 or 6 (3.75 or 4mm) (If you are proficient with Magic Loop or two circulars, you may bring the appropriate needles.)
Extras: Tapestry needle and stitch markers, waste yarn for holding stitches, magnetic board or sticky notes for keeping one's place on the chart.
Homework: The two colors of yarn MUST be wound into a center pull ball (one color on top of the other color) with the two ends accessible before class: first wind half the skein of one color onto your ball winder, then wind half the skein of your other color on to the ball winder.