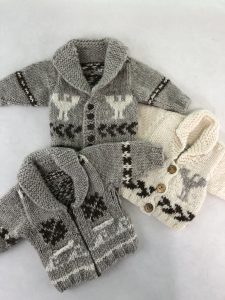 Length: 12 hours (2 days)
Level: Intermediate to advanced- must be experienced at reading charts and using double-pointed needles.
Class Description:
On Vancouver Island in British Columbia, the Coast Salish people developed this V-necked, shawl-collared garment after learning of knitting through Europeans who visited their area. The Salish prefer motifs that reflect the natural world (whales, birds, etc.) as well as geometric motifs. The sweaters, still handspun by some people, are knitted flat on double-pointed needles, with thick singles yarns in 2 or 3 colors. This class will cover working with up to three colors in a row and weaving (on the right side and wrong side), reading a chart, putting stripes in ribbing (without color distortion), knitting pockets, a traditional shoulder join, creating a shawl collar shaped with short rows, knitting sleeves from the top down while shaping the cap, and hand-sewing in a zipper, or working a button band.
---
Supply List:
Main Color (A): 3 oz. smooth-textured, worsted weight yarn (preferably wool).
Two Contrast Colors (B and C): 2 oz. each smooth-textured worsted weight yarn (preferably wool).  Note about yarns: This garment was traditionally made in natural colors (cream, light or dark grey, light or dark brown), with bulky single ply yarns. While you are welcome to use other yarns, I suggest Brown Sheep Lamb's Pride worsted weight yarns for the closest approximation to the original, in scale. If you are unable to find these yarns, you may any solid colored worsted weight yarn. Don't stress about it! 
US size 7 (4.5 mm) double-pointed needles and 16" (40 cm) circular needle (If you prefer you may use the Magic Loop or 2 circulars when working the sleeves in the round.
St markers, st holders, scissors, tapestry needle, sewing needle and thread (close to color A), sticky notes or magnetic board to keep your place on the chart.
Optional: Students may purchase specially ordered zippers for $2 in class, to sew into the sweater.
Homework:
None.