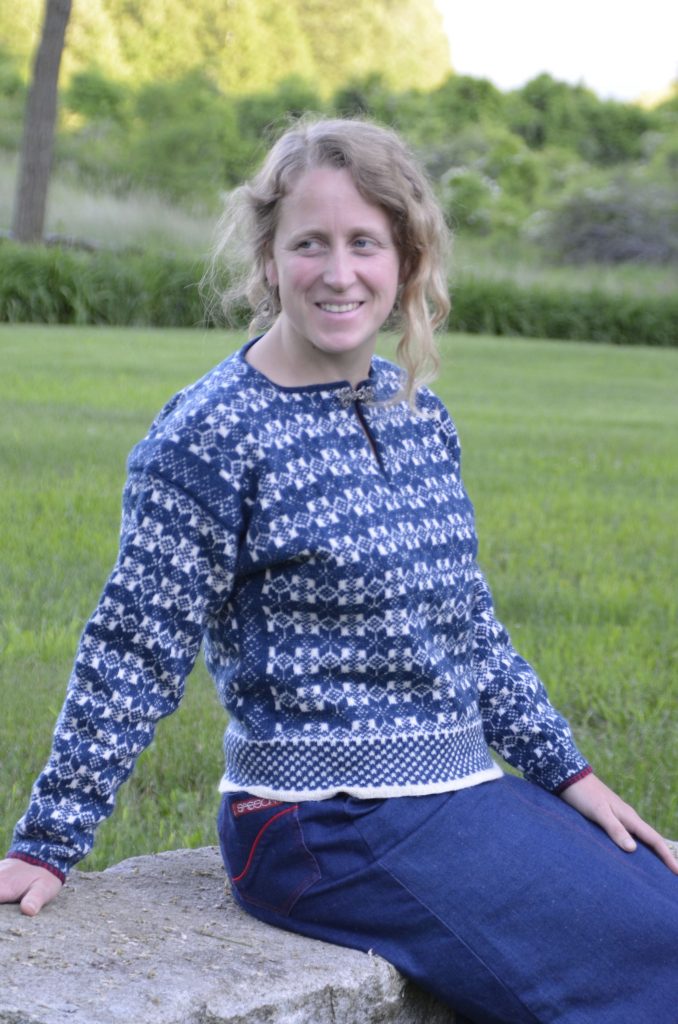 This remarkable Danish garment was created at the end of the 1800s. It is unusual in that most Danish knitting at that time was of one color, while this skrå-trøje was knitted in navy and white. In this class, a sampler will be knitted circularly to explore the following techniques: working from a chart, working with 2 different sizes of yarn, seam stitches, the main motif, the underarm half gusset, working with a yarn in each hand or with 2 yarns in the left hand, purling in pattern with two yarns on the wrong side of the garment, creating a front slit, creating facings, a twined knitting braid on the cuff, an overlapped cuff slit, and assembly. Designing a skrå-trøje and weaving yarns to eliminate long floats in the back of the work will also be covered. A slide show of the details of this sweater may be shown.
Time: 12 hours
Level:  Intermediate to advanced, must be experienced at reading charts, and using double pointed needles.
Supply List:
50 g (1.75 oz.) medium to dark worsted weight yarn (preferably wool): MC yarn
50 g (1.75 oz.) light or white fingering yarn (preferably wool): CC yarn
Several yards each of red and navy (or other contrasting colors)fingering yarn (preferably wool).
Note about yarns:
This garment was made with worsted and fingering weight yarns as specified above.  Brown Sheep Nature Spun yarns are available in worsted, sport, and fingering, Rauma yarns are available as DK (Strikkegarn and fingering (Finullgarn).   If you are unable to find the yarns above, you may use one sport and one worsted weight yarn.  Don't stress about it!
US sizes 2 (2.75 mm), 3 (3.25 mm), and 4 (3.5 mm) double pointed needles, 8″ long or shorter. US size 4 (3.5 mm) 16″ circular needle. You may use two circs or one for the magic loop if you prefer.
St markers, st holders, scissors, tapestry needle, D crochet hook, sticky notes or magnetic board to keep your place on the chart.
Optional: 2 buttons and a clasp.
Homework:
The Ribbing
With size 2 (2.75 mm)  dp needles and fingering (CC) yarn, cast on 80 sts.  Join circularly, and place a marker to indicate the beg of the rnd.
Rnds 1-4: *K4, p4; rep from *.
Rnds 5-6: Knit in CC.