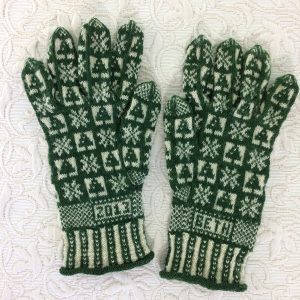 Length: 12-18 hours
Level:  Intermediate to advanced (must be proficient with dp needles)
The intricately patterned gloves from 19th century Scotland are a joy and a challenge to knit. Full of small geometric patterns and tiny gussets around the fingers and thumb, they are made on double-pointed needles. Explore the many pattern options of both the ribbing and glove body and discuss designing possibilities while knitting a full-sized glove. Learn about yarn dominance and how to manage two yarns at a time, in three different knitting styles as well as reading your knitting, rather than a pattern to create these marvelous gloves.
---
Supply List:
Needles:

  One set of five 7″ (or shorter)  long dp needles, US sizes 00, 0, 1, or 2 (1.75, 2.0, 2.5, 2.75 mm), whichever size yields a gauge of 11 sts/ inch in two color st st, and is comfortable for you to work with.  (My hand is medium sized and I worked my glove at 11 sts/inch. If you have a larger hand, you may  wish to work the pattern at  9 sts/inch or choose a larger motif.)  Please also bring an extra set each of dpn one size larger and one size smaller than the size you will use for your gloves, just in case you find you need to make gauge adjustments.
 

Yarns:

  1.75 oz- 2 oz. balls /210-262 yards (~50 g./ 240 m) each of two colors (Main Color- MC, and Contrast Color- CC) of plain- textured, solid colored fingering weight yarn, such as 3 or 4 ply sock yarn for a pair of gloves.
Many space-dyed sock yarns are not appropriate as they will cause the motifs to blur.  Solid colored yarns are best.
 Extras:  St. markers, sticky notes or magnetic board to aid in reading the chart, tapestry needle, scraps of contrast color yarn, tape measure.
 Homework is required (see below).
Some appropriate yarns:
Upton Yarns (uptonyarns.com) has a yarn suitable for Sanquhar Gloves.  It is a three-ply highly twisted yarn that will hold up well with repeated wearing.
Brooklyn Tweed's Vale is excellent for smaller women's sizes and children's sizes. (See my Compass Rose kit.)
Froelich Blauband
Schoeller-Esslinger Fortissima
Lang Jawoll
Dale Baby Ull
Paton Kroy
Zephyr
Koigu
Schachenmeyer Regia
Fach Haltbar  4 fädig
Brown Sheep Wildfoote
Knit Picks sock yarn
Knit Picks Palette
Jamieson and Smith Jumper weight yarn
Shetland 2000
Jamieson and Smith shawl weight
3 ply or 4 ply Cherry Tree Hill super sock
Jaeger Matchmaker Merino 4 ply
Homework available upon request.