May 13-16, 2021: Estonian Roositud
September 23-26, 2021: To Be Announced
November 4-7, 2021: To Be Announced
I hope to see you there!
Estonian Roositud
I spent over a month in Estonia in 2005.  The knitting techniques I saw were varied and sophisticated.  I was particularly entranced by the method of Roositud, where color is introduced to a garment by the "laying in" of other yarns to create motifs.  In this retreat, students will work on a mitten or glove while learning an Estonian cast-on, a choice of cuff motifs, reading Roositud charts and working them correctly.
Level: Intermediate.  Must be comfortable with double-pointed needles or working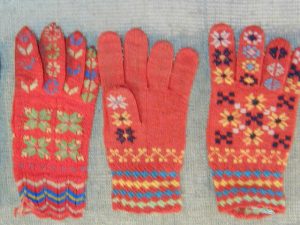 with two circulars or Magic Loop.