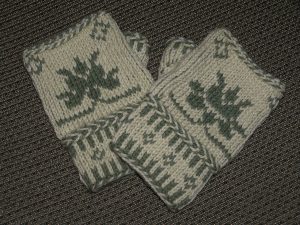 Students will learn the color techniques of tvåändsstickning, or twined knitting, a technique developed in Sweden in the 1600s, which creates a denser, warmer fabric structure than stranded knitting.  By knitting one of a pair of Fingerless Mittens, the student will gain knowledge and experience in the basics of twined knitting, while advancing to the three main two-color techniques: working with two and three yarns for color, and a modified intarsia technique as well as yarn management,  twined knitting, twined purling, herringbone braid, and reading twined knitting charts.
The typical gauge for traditional twined knitting is high, usually 8 stitches to the inch or more. I teach a lot of twined knitting classes and have found that students meet with better success and less frustration initially if they begin with a lower gauge.
Time: 6 hours
Level:  Intermediate (Must be comfortable with double pointed needles or working with two circulars or Magic Loop.  Ability to knit English style is strongly suggested)
---
Supply List
Yarn- No single ply yarns!
2 oz worsted weight yarn in each of two contrasting colors (must be wound as ONE center-pull ball—see below.
Needles:
One set of 7″ long (approximately) double pointed needles, size 6 (4mm)
Extras: Tapestry needle, stitch markers, waste yarn for holding stitches, magnetic board or sticky notes for keeping one's place on the chart.
Homework
Yarn must be wound as ONE center-pull ball:  wind one color, then wind the second color on top of the first so you have access to the inner yarn in the center and the outer yarn.  Find both ends before class.