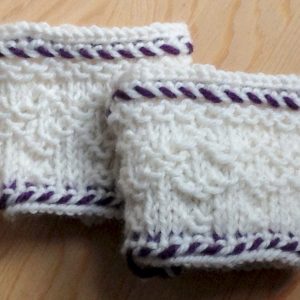 Curious about the 400 year-old Swedish technique of Twined Knitting?  This unusual method of knitting produces a very warm, firmly elastic fabric and motifs not possible in any other type of knitting. In this three hour class, knit one of a pair of wristers while learning a traditional cast-on, twined knitting, twined purling, and working motifs that combine these techniques, such as the "O" stitch, the Crook stitch, and the Chain Path.   Learn how to manage your yarns so that untwisting becomes a cinch!  Reading Twined Knitting charts is also included.
The typical gauge for traditional twined knitting is high, usually 8 stitches to the inch or more. I teach a lot of twined knitting classes and have found that students meet with better success and less frustration initially if they begin with a lower gauge.  Although this type of knitting is worked with special "Z-plied" yarns, it is not essential and any basic worsted weight wool yarn will do, such as Germantown, Cascade 220, or Brown Sheep Co. Nature Spun worsted weight.
Class Length: 3 hours
Level: Intermediate–must be comfortable with dp needles. Working with Magic Loop or two circulars is possible, if necessary.  Ability to knit English style (yarn held in the right hand) is very helpful, but not required.
---
Supply List
One skein of worsted weight wool yarn, preferably light colored.  The skein must be wound as a center-pull ball because you will be working with both ends.  No single ply yarns!
One set of size 6 or 7 (4 or 4.5 mm) double pointed needles or two circulars of any length.
Stitch markers, sticky notes or a magnetic board to keep one's place on the chart.
Homework
Wind your yarn into a center pull ball if it is not already a pull-skein.  Find both ends of the ball before class.